Facebook
LinkedIn
Twitter
Website
Authored Books:
Brilliant! – An Allegory of Hope (Children's picture book about adoption and fostering)
Skylar and George Washington (Children's picture book of George Washington's biography


Starting with my first camping trip to Fort Yargo State Park, Winder, Georgia on May 29-31, 2016 I have been on 52 adventures and spent 106 nights with Shana. I've travelled over 20,030 miles with Shana to campsites in the following states: Georgia, Maryland, Connecticut, Massachusetts, Vermont, New York, West Virginia, Mississippi, South Dakota, Montana, Washington, Idaho, Wyoming, Nebraska, North Carolina, Tennessee, Oklahoma, Arkansas, Texas, Kansas, Missouri, Illinois, Minnesota, Indiana, Kentucky. The trip to Tallulah Gorge State Park, Tallulah Falls, Georgia – October 7-9, 2016 because of the uniqueness of the area has been my favorite camping adventure so far. On our trips my favorite thing to do is fishing. My favorite drink on camping trips is plain regular black coffee and my favorite camping meal is steak. All the times I've fished on our trips I have caught a total of 8 fish. My favorite thing about Shana, the vintage camper, is her rarity.

My camping trips with Shana:
Bolding Mill on Lake Lanier - September 25, 2021 - Georgia
Assateague Island National Seashore - July 10, 2021 - Maryland
Lake Waramaug - July 7, 2021 - Connecticut
Winter Island Maritime Island via Acadia - July 5, 2021 - Massachusetts
Grand Isle on Lake Champlain - June 26, 2021 - Vermont
Niagara Falls USA - June 23, 2021 - New York
New River Gorge in West Virginia - June 20, 2021 - West Virginia
Gulf Islands National Seashore, Fontainebleau & New Orleans - April 10, 2021 - Mississippi
Dames Ferry Near Whistle Stop Cafe - March 14, 2021 - Georgia
Shady Grove Campground at Lake Lanier - November 9, 2020 - Georgia
Doll Mountain Campground at Carters Lake - October 13, 2020 - Georgia
Cedar Pass at Badlands National Park and Hot Springs Fire Tower - July 5, 2020 - South Dakota
Blue Bell at Custer State Park with Devil's Tower, Mt. Rushmore and Crazy Horse - July 3, 2020 - South Dakota
Makoshika State Park - July 1, 2020 - Montana
Moose Creek Resort at Glacier National - June 29, 2020 - Montana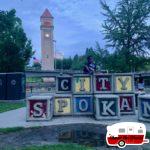 Riverside Bowl and Pitcher Park - June 27, 2020 - Washington
Craters of the Moon Arco KOA - June 25, 2020 - Idaho
Grand Tetons, Jackson Hole & Mike Harris Creek Campground - June 24, 2020 - Idaho
Bridge Bay Campground at Yellowstone - June 23, 2020 - Wyoming
Robidoux RV Park at Scotts Bluff National Monument - June 21, 2020 - Nebraska
Morrow Mountain State Park - May 27, 2020 - North Carolina
Indian Springs State Park - May 11, 2020 - Georgia
Don Carter State Park - April 20, 2020 - Georgia
Moccasin Creek State Park - March 31, 2020 - Georgia
Black Rock Mountain State Park - November 27, 2019 - Georgia
Morganton Point Recreation Area and Campground - October 16, 2019 - Georgia
Harrison Bay State Park - July 21, 2019 - Tennessee
Lake Murray - July 18, 2019 - Oklahoma
Burns Park - July 17, 2019 - Arkansas
Palo Duro Canyon State Park - July 15, 2019 - Texas
Lovewell State Park - June 23, 2019 - Kansas
Blue Springs Lake Campground at Fleming Park - - Missouri
Reelfoot Lake State Park - - Tennessee
Stephen C. Foster State Park (Okefenokee Swamp) - April 10, 2019 - Georgia
Vogel State Park - November 19, 2018 - Georgia
Shady Grove Campground - October 8, 2018 - Georgia
Watson Mill Bridge State Park - September 3, 2018 - Georgia
Fall Creek Falls State Park - March 11, 2018 - Tennessee
F.D. Roosevelt State Park - February 19, 2018 - Georgia
Morganton Point Recreation Area & Campground - October 9, 2017 - Georgia
Starved Rock State Park - July 31, 2017 - Illinois
Forestville/Mystery Cave State Park - - Minnesota
Indiana Dunes State Park - - Indiana
Big Bone Lick State Park - - Kentucky
Tugaloo State Park - July 16, 2017 - Georgia
Black Rock Mountain State Park - July 4, 2017 - Georgia
High Falls State Park - May 29, 2017 - Georgia
Victoria Bryant State Park - February 20, 2017 - Georgia
Tallulah Gorge State Park - October 7, 2016 - Georgia
Fort Mountain State Park - September 16, 2016 - Georgia
Sloppy Floyd State Park - July 1, 2016 - Georgia
Fort Yargo State Park - May 29, 2016 - Georgia